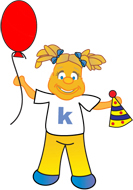 Have you got a birthday party coming up soon, or something else to celebrate? Celebrate it at Kidz Kingdom. Here's what you get:
Birthday Invitations for all your guests,
Unlimited juice for all your guests,
2 Hours of play,
Choice of food from the menu,
VIP Pass for the Birthday Child,
A cool disco,
Party Bags
Birthday child gets a handsome KidzKingdom badge!
What about extras? We can supply all sorts of optional extras, including the following:
Piñata,
Face painting,
Balloon modelling,
Character visits,
And more!!! Just ask!
Make your special day one to remember with all your friends at Kidz Kingdom!!!
Want an exclusive party? Want the place all to yourself?
VIP Party
25.00€ per child
Minimum 25 Friends
Want the place exclusively for you and your friends? With our VIP Party, you and your friends can play for up to 2 hours on your own.
Please request availability in advance.
Corporate Parties Available Upon Request
(Please ask for further details and availability.)
Management reserve the right to alter times and prices without prior notification!