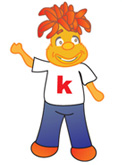 Staff
We're a big happy family here at KidzKingdom with a mix of nationalities including Swedish, British, Latvian and of course, Spanish!
Meet the team below with an indication of which languages we are able to help you in.

Allie




Peter




Sabrine



Edu



Juri




Our Equipment
We are an independent organisation, and we care about providing play facilities for children in a safe environment.
Our recently opened complex at Circus City is one of the largest indoor play centres on the Costa del Sol, and provides adventure play facilities for children from 0-11 years of age, under parental supervision.
All our equipment has been professionally designed and installed, with the express intention to challenge and educate the child, at the same time maximising fun without compromising safety.
Our team is a happy family of mixed nationalities from Sweden, Hungary, United Kingdom, Latvian... and of course, Spanish!
We also have some very special friends who come in from time-to-time... including Mickey, Goofy, Minnie, Spiderman, Barney and Pluto. And coming soon... Peppa Pig!
Our partners are members of the International Association of Amusement Parks and Attractions (IAAPA), and strictly follow International Play Equipment Manufacturers Association (IPEMA) guidelines for designing and manufacturing, safety always being a first priority.

The equipment is of solid construction, using superior materials and quality craftsmanship, fully in accordance with the requirements of IPEMA. Keeping children occupied is one thing - letting them have fun while getting healthy exercise is something even better, and that is what our playground systems are designed to do.
We provide children with the opportunity for healthy, safe, and above all fun-filled activity.
We are helping to fight child obesity by encouraging excercise through modular play!